As with most good pet projects, our story started with a four-legged friend. Precocious, spirited, opinionated, and loving - Kit the dog is constantly searching for adventure. We aren't sure exactly where she came from, but in the eight years she has been with us, she has consistently demonstrated a taste for trying new things.
The list of items Kit has unexpectedly eaten is extremely long and fairly embarrassing for any pet parent to admit. To give you an idea, this 25-lbs girl has taken down a ham steak, a two-layer cake, ribs, chocolate, and a variety more unsavory flavors and inedible items too gross to post here. Fortunately, her stomach is strong and her veterinarian is understanding. Unfortunately, there's no telling what she will get into next.
By the end of 2019, Kit had amassed an arsenal of veterinary-approved solutions to manage her misadventures. Not finding anything comparable on the market and inspired by our curious canine, we realized a need for a medicine cabinet of sorts for dogs, and The Uh-Oh Kit® was born.
Our Mission
Provide pet parents with easy solutions to over-the-counter emergencies. 
The name and mission of Puppylation Health® LLC is derived from the concept of population health. Population health is used to describe health outcomes of groups of individuals. Understanding population health allows healthcare organizations and providers to better serve communities by improving outcomes, patterns, and policies.
At Puppylation Health, we intend to create reliable, veterinary-approved solutions for pet parents to manage their pet's health more effectively. Our products and instructions are curated and created by a licensed veterinarian, but we know each dog is different. We include sample situations that each product may be used so you can explore and discuss our products and recommendations with your veterinarian. That way, when danger comes knocking, you will be prepared. We are here to help you get in front of your pet's healthcare and empower you to confidently handle a number of situations.

We value pets, people who care for them, and the planet we share together.
Every person and animal deserves reliable healthcare, and we want to invest in communities that uphold these values. We are committed to financially supporting organizations that promote sustainability and provide essential services for animals and their healthcare providers. A portion of our profits are donated to organizations that support these missions.
Puppylation Health supports Not One More Vet's mission to transform the status of mental wellness within the veterinary profession with one percent of all sales.
One percent of sales from every Puppylation Health order are donated to environmental non-profits through 1% for the Planet!
Our Team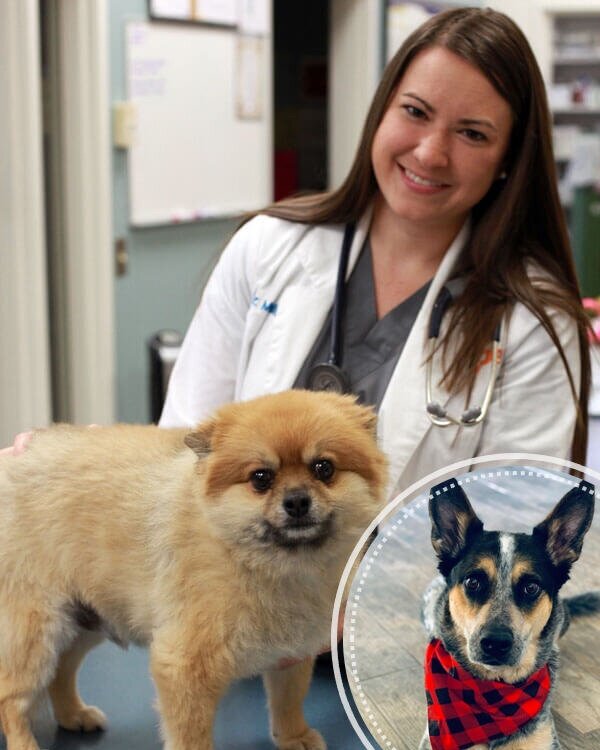 Dr. Nikki Meredith and Finn
Dr. Meredith is an emergency veterinarian with endless patience. Inspired by a love of animals and the urge to improve humans' understanding of animal healthcare, a young Nikki carved a path for herself to veterinary medicine more than a decade ago.
She regularly helps people navigate tricky — and sometimes surprisingly common — situations with their pets. She never knows what is going to happen day to day, and she loves her work. However, she believes in the importance of lessening the burden on emergency hospitals. With Puppylation Health and The Uh-Oh Kit, Dr. Meredith hopes to help pet parents better understand their companions' healthcare.
Samantha Long and Kit
Samantha worked in human healthcare supply chain for the better part of a decade. Not far behind the start of her career was her adoption of Kit, a four-legged companion with a spirited personality. Kit was never particularly interested in Samantha's data-centric line of work and often employed her sense of curiosity sniffing out trouble. 
Kit's veterinarian has always been helpful, but after a few too many after-hours incidents and emergency calls to Dr. Nikki Meredith, Kit's unofficial medicine cabinet inspired a movement to better prepare pet parents.